History of the Passat
February 09 2018, Simcoe Volkswagen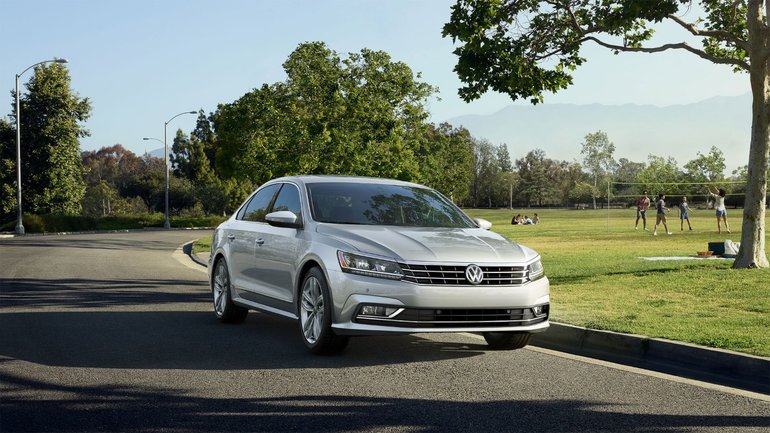 Back in the early 70s Volkswagen was floundering. After more than three decades in production, the Beetle was simply being outclassed by the competition and there was no way to tweak the design to keep up. Meanwhile, newer air-cooled/rear-engine cars like the awkward 411 and 412 that were intended to supplant and supplement the Beetle were nothing less than abject failures. VW needed to do something different and the first something it did differently was the Passat. It was the first front-drive Volkswagen sold in North America.
The Volkswagen Passat is a large family car produced by the German manufacturer Volkswagen since 1973, through eight design generations. It is positioned between the Volkswagen Golf (Jetta) and the Volkswagen Phaeton in the current Volkswagen line-up and its derivatives have been badged variously as the Dasher, Santana, Quantum, Magotan, Corsar and Carat. The successive generations of the Passat carry the Volkswagen internal designations B1, B2, etc.
In 2008, Volkswagen extended its range with the launch of the Passat CC, a "four-door coupé" version of the Passat.
Volkswagen currently markets two variants of the Passat globally. In January 2011, Volkswagen announced that the new mid-size sedan (NMS) being built at the Volkswagen Chattanooga Assembly Plant for the North American market would be named the Passat. Shanghai Volkswagen Automotive also manufactures the Passat NMS in its Nanjing factory. The NMS is sold in the North American, South Korean, Chinese, and Middle Eastern markets. The Volkswagen Passat NMS won the 2012 Motor Trend Car of the Year. A new Passat model has begun manufacture in Europe in 2014 and is based on the MQB platform.
The Name Passat
Though numerous sources suggest the Passat nameplate derives from the German word for trade wind, reflecting the period in Volkswagen's history when it named its vehicles after prominent winds and currents (e.g., the Volkswagen Golf (after German for Gulf Stream), the Volkswagen Jetta (after the Jet stream), Volkswagen Bora (after bora), and Volkswagen Scirocco (after sirocco), a 2013 report by former VW advertising copywriter Bertel Schmitt, says that after consulting knowledgeable VW sources including Dr.Carl Hahn, former Volkswagen of America Chief and WP Schmidt, former sales chief at Volkswagen no conclusive evidence suggests that Volkswagen employed a naming theme for its then new front-drive, water-cooled vehicles; nor that the names trace etymologically to any particular theme, nor that any naming system "was ever announced, either officially or confidentially
Source: http://en.wikipedia.org/wiki/Volkswagen_Passat